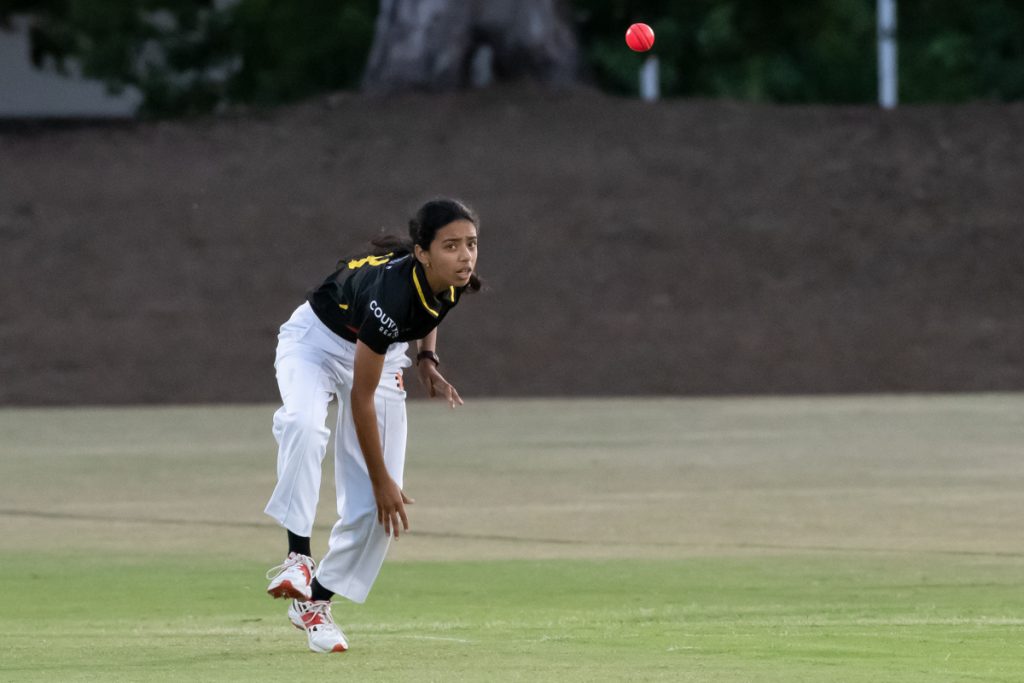 The development of girls cricket at Wests has been a major success for the club in recent years.
Wests junior cricket was a foundation club for the establishment of the Chelmer Girls Cricket Challange for the 2018-19 season. This competition was the first girls-only cricket competition to be run on Brisbane's south side and has since grown to a full suite of MSW girls cricket competitions comprising four different levels of junior girls Stage 1 and Stage 2 competition, and three competitions in the Brisbane Women's Cricket joint venture between MSW and BNJCA.
Wests enters teams in the following girls and women's community cricket competitions:
MSW Ribbon T20 – Stage 1 Introduction (notional U10)
MSW Laurel T20 – Stage 1 Intermediate (notional U11)
MSW Star T20 – Stage 2 Intermediate (notional U13)
MSW Garland T20 – Stage 2 Advanced (notional U14)
BWC Harris Shield T20 – Stage 3 (U15)
BWC Kirsten Pike Plate – Open Womens T20
BWC Rebecca McCoombes Cup – Open Womens One Day
The positioning of these competitions is provided on the diagram below: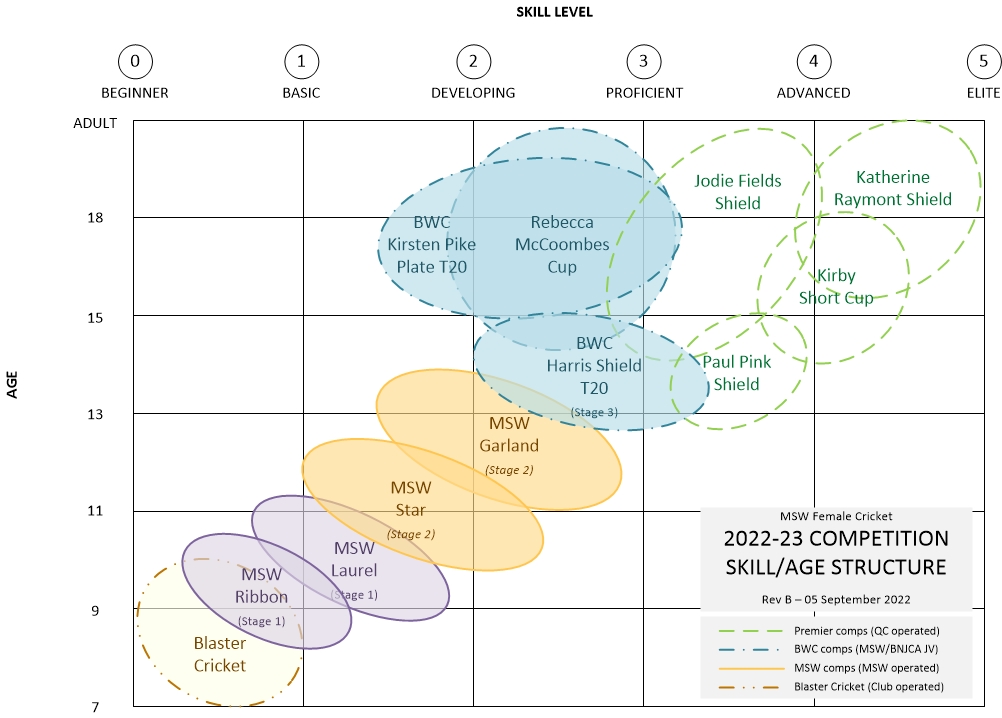 MSW Girls Cricket
MSW girls cricket in the Ribbon, Laurel, Star and Garland competitions is played in T20 format. Games are mostly played on Friday nights under lights.
MSW Ribbon – Friday nights
MSW Laurel – Friday nights and occasional Saturday mornings
MSW Star – Friday nights
MSW Garland – Friday nights and occasional Saturday nights
Matches are played at the home grounds of participating MSW clubs in the south-west Brisbane area.
The MSW girls junior cricket competitions junior have filled a gap in the cricket opportunities for girls in the Brisbane Metro South West between blaster cricket and women's premier cricket. Until 2018, most girls in our area played junior mixed cricket until their mid teens when they progressed to women's premier cricket. Playing mixed junior fixtures provided a strong base for girls to develop their game, but many girls – understandably! – like the challenge of playing cricket only with other girls as well.
The rapid development of the MSW girls junior cricket over the past five seasons has fuelled very strong growth in the number of girls playing cricket in the region. Wests has been integrally involved at every step of that development. Our club fields teams in all four MSW girls cricket competitions (including multiple teams in several of them), and also in the three Brisbane Women's Cricket competitions for older girls and young women.
MSW Junior (Mixed) Cricket
Wests girls also have the option of playing in boys/mixed teams in the MSW junior competition which runs on Saturday mornings. In the recent years, the vast majority of Wests girls have played in the MSW girls competitions and a small number of players looking for a second game of one-day cricket have played in the boys/mixed teams on Saturday. When placing girls in boys/mixed teams for the MSW Junior Cricket competitions, we endeavour to place them in teams with two or more other girls.
With the advent of the new Rebecca McCoombes Cup women's competition, older girls (Harris Shield players and strong MSW Garland players and above) are encouraged to play their second game in this competition.
Brisbane Women's Cricket
From about 14-15 years of age, Wests girls and young women play in the Brisbane Women's Cricket Harris Shield (U15), Kirsten Pike Plate (Open) and Rebecca McCoombes Cup (Open) community cricket competitions. Further details of these competitions can be found on our BWC page.
Harris Shield and Kirsten Pike Plate games are played on Friday and Saturday nights, and occasionally on Monday nights. Rebecca McCoombes Cup games are played on Sunday afternoons.
Grading
Our junior girls are allocated into teams following out junior girls grading day, details of which are published each season on our junior grading page. Under the MSW Stage-based grading system, we have the flexibility to place girls in teams at a level of play they are comfortable with, and age is a secondary consideration.
What next? Beyond junior girls cricket…
Once their junior cricket playing days are over, Wests girls have fantastic options to continue playing in girls and women's community and premier cricket competitions.
Wests enters teams in the Brisbane Womens Cricket community competitions, providing opportunities for players of all ages to continue playing cricket for the club for as long as they're able to hold a bat and bowl a ball!
Or if high-octane competition is more your shctick, many of our junior girls have progressed to playing for our very strong female premier cricket Paul Pink Shield and Women's Premier Grade teams and some have gone on to play representative cricket at district, state and national level.
How to play girls cricket at Wests
If you want to know more about girls cricket at Wests, please contact our Girls Cricket Co-ordinators, Gerry Totten at gerry@totten.id.au or Ray Pagliano at Ray.Pagliano@optus.com.au