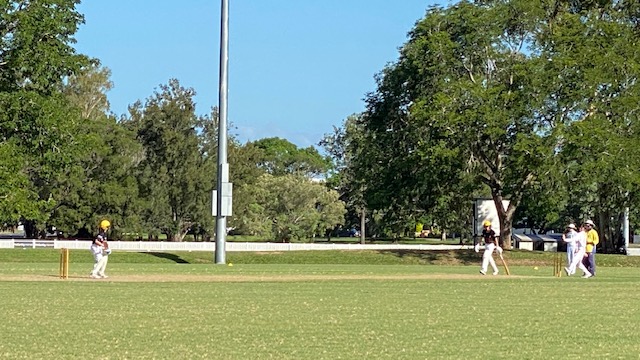 Cricket was always going to be the winner in round 5 as we got ready for the local inter-house clash of Wests vs Wests in the Stage 3 Intermediate T20 competition on Sunday.
Chelmer Sports ground was the place to be for our Wests families as they took their seats under the big shady trees on the hill. It was a wonderful friendly atmosphere as many of the parents mingled with each other and the boys were warming up, proudly wearing their Wests colours.
Time to take the field, Chieftains had won the toss and chose to bowl first so the Tomahawks batsmen padded up ready for their innings.
It was not the start they wanted, losing an early wicket. The fall of the first wicket brought Josh Lossberg in at 3. As a left arm fast bowler, he isn't used to batting at 3 but he scored 42 not out last week so the coach thought, "Give him another go" so in he went, pads on and the yellow Wests helmet sitting firmly on his head.
Josh and Sam Parker were out there, trying to up the run rate for us, and it was working. Sam was hitting them well and the boys were running well between wickets. At 0/41 they were looking at forming a nice partnership and then another wicket fell.  Sam was out, one of their big hitters was gone, 23 off 26 but the platform was set.
Josh decided, it was up to him so he ran hard and hit four after four. After retiring a couple of batsmen, we lost some more quick wickets so in comes Josh's little brother Cameron, filling in for an injured player. While Josh was scoring at the other end, Cameron was holding up one end, running when he needed, to get Josh on strike. Josh hit a few more fours and made Cameron run between wickets fast. Cameron is fast, but not as fast as Josh. Cameron managed to hang on to his wicket and the Lossberg brothers batted together for a few overs to keep the innings alive.
They were in the 17th over and the Tomahawks were looking good on the scoreboard. Josh was hitting hard and running quick, he hit another boundary and with 7 fours to his name and lots of two's and singles run, he was retired not out on 52* off 46 balls. He said goodbye to his brother at the other end and off he walked with his bat in the air.
It has been a while since Josh had the opportunity to bat for so long and he grabbed the opportunity with both gloves and smashed it. With four other retiree's that day, the boys did well in support with Josh and they managed to set a total of 140 which proved too much for the other Wests team to chase down.
Well done Josh on another 52* for Wests.