The excitement continues! After three great seasons in 2018-19, 2019-20 and 2021/22, the Chelmer Girls Cricket Challenge will be back again in 2022-23!
Games will be played at Wests Chelmer Sports Ground and Graceville Memorial Park fields and other facilities in the local area on Friday nights for both the pre and post-Christmas seasons.
Why are we running this competition?
The Chelmer Girls Cricket Challenge fills a gap in the cricket opportunities for girls in the Brisbane Metro South West association area between Junior and Master Blaster cricket and the Premier Girls Youth competition. Most girls in our area play junior mixed cricket until their mid to late teens when they progress to women's cricket. Playing mixed junior fixtures provides a strong base for girls to develop their game, but many girls – understandably! – like the challenge of playing cricket only with other girls as well. Until recently there has been limited opportunity for girls to play competitive girls-only cricket in the MSW region unless they play in Premier Girls Youth, representative or women's teams.
The formation of new Chelmer Girls Cricket Challenge enables girls to play cricket with girls on Friday nights while still continuing to play junior mixed cricket on Saturday or women's Premier Grade cricket fixtures on Sundays.
Where and when will games be played?
Stage 3 games will be played under lights at Wests' picturesque Chelmer Sports Ground at Queenscroft St, Chelmer, and at Valley DCC's home ground at Ashgrove.
Stage 2 games will also be played on the Chelmer Sports Ground and at other venues in Brisbane's south-west.
Stage 1 games will be played in 5:30 – 7:30pm at other venues in Brisbane's south-west, with Graceville Memorial Park being home base for Wests teams.
Teams
We expect that up to six teams of seven players will participate in the Stage 1 competition, and six teams of nine players will compete in the Stage 2 comp and up to six teams of nine players will contest Stage 3.
Ages
Teams will be formed based on the skill level of the players with age used as a guide. This gives clubs the flexibility to place girls in a team based on their current level of skill, helping to ensure that they enjoy playing cricket.
The Stage 3 competition is for girls up to about 18 years of age (although older players new to the game who are not yet at women's grade cricket skill level will also be eligible to participate). Stage 2 competition is intended for girls in the range of about 11 to 14 years of age and the Stage 1 competition is intended for girls in the range of about 9 to 12 years of age.
Format
The competition will be Cricket Australia Stages 1, 2 and 3 format with some minor modifications. These are modified forms of the game which have been scaled to match the smaller stature of younger and cricketers. Cricket Australia and Queensland Cricket introduced these formats in 2017, and they are progressively being introduced to the MSW junior cricket competitions. They are also used in the Premier Youth Girls competition, and are the format used in Queensland Cricket's U15 and U13 State Challenge representative tournaments.
Click on the link below to read about Cricket Australia's junior cricket formats.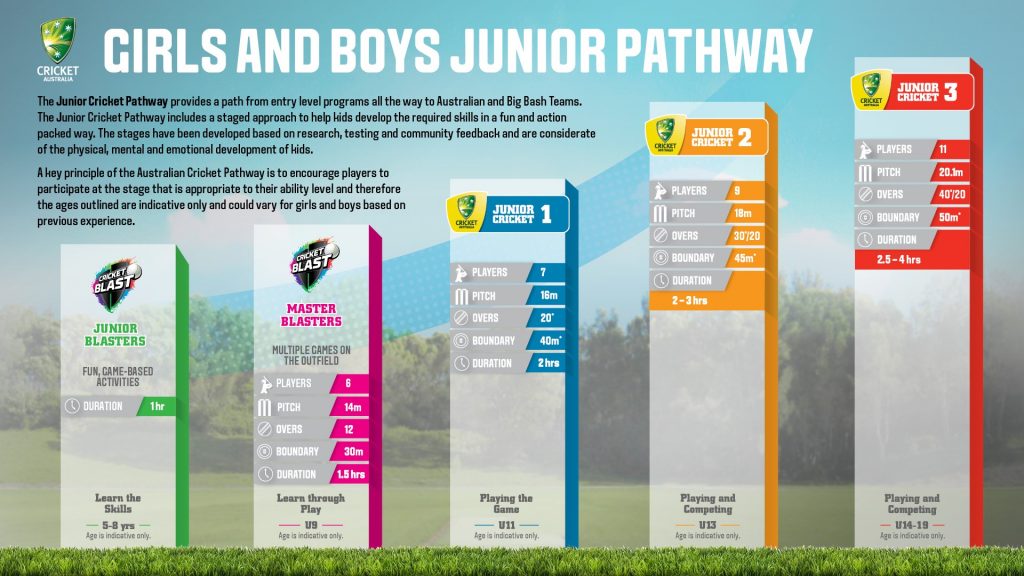 The season
Anticipated dates for the 2022-23 season are as follows:
Pre-Christmas TBA
Post-Christmas TBA
Draw
A draw will be posted before the season commences after players and teams have been registered.
Competition
All games will be scored. The Stage 1 competition will be a round-robin contest where games are competitively run, but with with no competition leaderboard and no "final".
The Stages 2 and 3 competitions will feature a round robin competition and a leaderboard will be retained with team placings based on accumulated points for wins, losses and net run rate. In the final week, first and second placed teams will play a final, and the third and fourth placed teams will play a play-off game.
Catering
Wests will run a Canteen Cafe at the Chelmer Sports Ground on all game nights which will offer a range of reasonably-priced food and drink. This will enable girls and their families and friends to enjoy an evening out playing and watching cricket.
What better way to spend a Friday evening than a relaxed dinner and cricket at the picturesque Chelmer Sports Ground?!
How to register
If you're a Wests player and you want to register to play or know more about being involved in this competition, please contact Wests' Girls Cricket Co-ordinator George Seaward at geobel7@bigpond.com