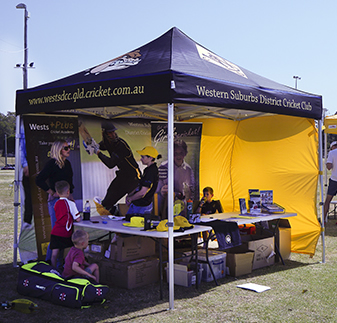 Our First Grade men jumped out to a great start for the season with a thumping 9-wicket win inside 20 overs over the Gold Coast in the one-day game at Graceville on the weekend. And our Second Grade Men made it two-for-two with a 3-wicket win over the Gold Coast at Bill Pippen Oval.
Off the field a great crowd enjoying our season launch activities including the Junior Top Dog! Challenge, the Wests Plus Cricket Academy workshop, and the BBQ lunch extravaganza (featuring Wests' World Famous Burgers!). A stready stream of people took advantage of the information about Wests' cricket activities at the Wests tent, and also snapped up some of the new Wests merchandise on offer (stand by for more information about Wests merchandise and clothing arriving soon!)
To complete the festivities, Greg Rowell completed the official season launch with a rousing speech to the masses.
So, we're launched! Here's to a great season coming up!