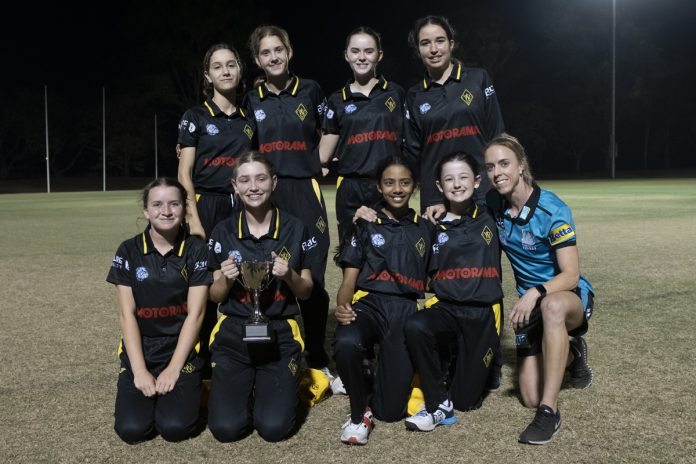 Wests Falcons girls won the Kirby Short Cup on Friday night with victory over Souths Fire under lights at Chelmer Sports Ground, and Wests Harriers team completed a great night for our Stage 2/3 girls with a win over UQ for third place.
The Falcons won five of their six games in the preliminary rounds and topped the leaderboard. Three teams – Wests Falcons, Souths Fire and Wests Harriers – were tied on points. The Falcons and Fire went through to the final based on net run rate, and the Harriers went through to the third-place playoff against fourth-placed UQ.
The Falcons bowled tightly in the opening overs, restricting Souths run scoring and keeping the Fire girls to a total of 3/91 from their 20 overs. Jordan Kirby-Smith took 1/13 (4) and Tanvi Aiyar 1/14 (4).
The Falcons batting innings began strongly with captain Emma Lockwood (12no off 19) and Erin Moran (38no off 21) scoring a fine rate with support from Jordan Kirby Smith (15no off 21) and Tanvi Aiyar (11 off 17). They ran down the Souths Fire total in the sixteenth over, giving them an eight wicket victory.
Kirby Short was at the game to see the Falcons complete the win and present her eponymous trophy to the Wests girls.
Wests Harriers placed third in the preliminary rounds based on net run rate and played UQ in the play-off for third place. Despite having two of their leading players unavailable for the playoff due to injury and other commitments, the Harriers took out the win and secured third position in the competition. Wests Harriers batted first and posted 4/95 with captain Scarlett Varidel scoring 37no off 31 and Allegra Nearhos 13no off 36. UQ were dismissed for 8/71 (and ultimately reached 9/82) with Holly Walker taking 4/4 (4), Allegra Nearhos 2/4(4) and Amy Carpenter, Luci Peapell and Scarlett Varidel all taking a wicket each.
The wins were a perfect lead-in to Wests' girls defence of their Paul Pink Shield premiership in the Youth Girls Premier Cricket competition which starts in mid-December.
Congratulations to the Wests Falcons on taking out the Kirby Short Cup and to the Harriers for sealing third place with their play-off win.
The MSW Chelmer Girls Cricket Challenge is the junior competition for girls in the Metropolitan South West Association. The Kirby Short Cup is awarded to the winning team in the Stage 2/3 competition.