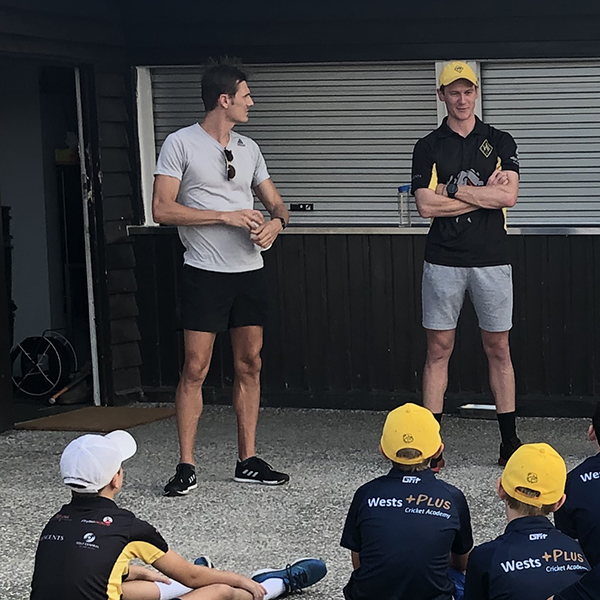 A great turn out for our Wests+Plus Cricket Academy Summer camp and some sensational cricket played.
Whilst the weather played havoc with some of the plans, thanks to the great work of our groundsmen, we had use of the centre turf wicket for game simulation training.
We also had the guest appearance of our own Brendan Doggett from the Brisbane Heat and Qld Bulls. Sam Truloff from the Qld Bulls also attended.
Here are some of the photos from the Summer Camp.
The Wests+Plus Cricket Academy had the good fortune of securing Former Australian Women's Cricket Captain, Qld Fire Captain and our very own Wests 1st Grade Premiership Superstar, Jodie Fields.
Jodie made a century in her first test match as captain. She also captained Australia to ICC Women's World T20 success in 2012 and then ICC Womens World Cup in 2013. She was the first Australian Women's captain from Queensland and arguably Australia most successful captain With 76 tests dismissals as a keeper as well as her impressive batting average of 66.20 in test cricket, Jodie is a true cricket legend and a Western Suburbs cricket legend to boot.
Here are some photos with Jodie attending our Wests +Plus Cricket Academy.
The Wests+Plus Cricket Academy Development Squad and Focus Squad have had several guests to help our Academy students in their development as cricketers. Again Brendan Doggett has lent his time to work with our younger bowlers and spend some time discussing with all about preparation and training plans. As usual Brendan is always giving of his time to support our younger players and our Club. Thanks again Brendan.
We also had a very special guest Commonwealth Games Gold Medallist and Rio Olympic Bronz Medallist Dane Bird Smith!!
From Dane's Wikipedia site:
"Dane Alex Bird-Smith (born 15 July 1992) is an Australian racewalking athlete. He competes in the 20 kilometres race walk and has a best of 1:19:28 hours for the distance, set in 2017. He competed at the 2016 Rio Olympics, where he was the bronze medallist. Bird-Smith represented Australia at the World Championships in Athletics three times (2013, 2015, 2017) and has appeared four times at the IAAF World Race Walking Team Championships/Cup.
He was the gold medallist at the Commonwealth Games in 2018, the Summer Universiade in 2015 and the Oceania Race Walking Championships in 2018 and 2014. He is the son of former Australian Olympic walker David Smith. Dane currently holds the Oceania continental records for the 3000 metres walk and 5000 metres walk."
Dane is a cricket tragic and it was great to have him visit the Wests +Plus recently to provide in his insights of being an elite athlete to our Focus and Development Squad cricketers. Dane shared share his views on preparation, training habits, mental strength,set backs, motivation and recovery. It doesn't matter what age you are… getting tips from an elite athlete from a different sport may just take your game to the next level.
Here are some photos