Cricket Australia's helmet policy for grade cricket players has been implemented by Queensland Cricket for the 2019-20 season.
Wearing British-Standard compliant helmets is now mandatory when batting to fast and medium pace bowlers, when keeping up to the stumps and when fielding in close. This change implements requirements at club level which are already in place for representative level games.
This is a significant shift from Queensland Cricket's previous policy where wearing helmets was optional for premier grade players. Umpires will be able to direct players to wear a helmet. Significant penalties, up to forfeiting the match, can be applied if a player fails to wear a helmet if the umpire directs them to do so.
For junior cricketers, MSW association rules already require that helmets be worn while batting and keeping for "hard ball" cricket (Stages 2 and 3) and recommends wearing helmets for "soft ball" cricket (Stage 1). This means that there is effectively no policy change for the 2019-20 season, however for the 2020-21 season MSW will also require that helmets be British Standard compliant.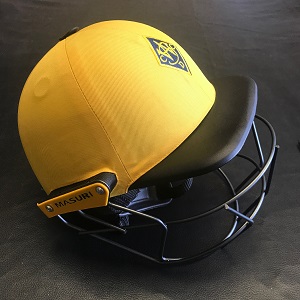 For premier cricket, umpires will be responsible for ensuring that players wear helmets when the rules require it, but it will be the responsibility of the individual player to ensure that helmets are British Standard compliant. It is expected that the same requirements will apply to coaches and managers for MSW junior games.
So if you're intending to purchase a new lid this season, best to make sure it's BS-compliant!
We have some compliant Masuri helmets in Wests colours available, and more stock has been ordered. Details will be posted when they arrive.
Full details about the new helmet policies can be found on our New Helmet Rules page.