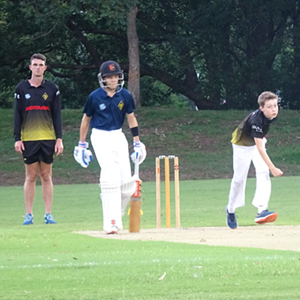 Wests +Plus Cricket Academy rounded out the season on March 22 with a fantastic day/night T20 exhibition game at Chelmer Sports Ground.
The game was played in conjunction with Wests Junior Awards Night, with the awards presentation being conducted during the innings break. A great crowd of Wests junior players and their families and friends had a fantastic time at the combined event.
The game was played in great spirit with all of the players displaying the skills they'd gained during their season with the academy's coaches.
The "Wests Blue" team batted first and made 4/116 off their 20 overs with Michael Neumann making 29ret off 24 balls, Raziel Bhandari making 28ret off 24, and Zac Olsen compiling 12ret off 25. For the "Wests Black" team, James Hockey took 2/13 off 2 overs, Oliver Hottot took 1/10 (2) and Jackson Love took 1/15 (2).
Wests Black batted after the awards presentation and Wests Blue bowled well to restrict their scoring with the Blacks only passing their score in the 17th over, before finishing with 4/127 off their 20 overs. Jack Richards made 27ret of 17 balls, Naiya Varidel made 23 ret off 26, and Dan Skipwith made 23 off 16. For the Blues, Owen Thompson to 2/20 off 3 overs and Will Garate took 12 off one over.
Over 100 players have participated in the Wests +Plus Cricket Academy programmes over the season and shown great improvement in their game.
The Academy programs will be taking a short hiatus, and returning for pre-season training in July 2019. Check out all of the details on the Wests +Plus Cricket Academy pages on our website and plan to supercharge your game for the 2019-20 season with the academy programs!